Shawn Snider Shares His Favorite Features on the All-New GLS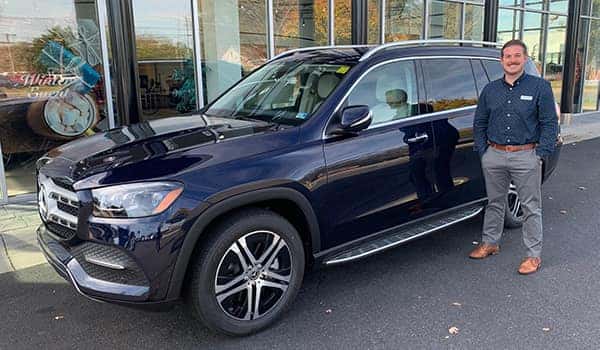 Shawn is a Sales & Leasing Consultant at Mercedes-Benz of Richmond.
As the largest SUV in the Mercedes-Benz lineup, the GLS (formerly named GL-Class) has always had a commanding presence. It combines the extra space and comfort of a large SUV with the classic elegance of a Mercedes-Benz. And now, with a few modern tweaks and additional options, it's become a full-size luxury SUV driver's dream. Here are my favorite features in the all-new 2020 GLS.
Tech Upgrades
The new GLS has gone through one of the most dramatic technology upgrades in Mercedes-Benz's recent history. User controls are easier than ever thanks to the addition of a beautiful, high resolution 12.3" touchscreen and the new voice activated "Hey Mercedes" MBUX. There's also a fun optional feature that could be very useful called E-Active Body Control. It allows the vehicle to bounce on its suspension to gain traction when it's stuck.
Optional 2nd Row Captain's Chairs
For the first time in the GLS, captain's chair seating is now available, and it's a no-charge option. It's a fantastic choice for some. It makes for a roomier second row, and the third row is easier to access as well – a win-win!
EQ Boost Benefits
The new engine in the 2020 GLS allows for gas-free coasting and lower emissions thanks to a new electronic feature called EQ Boost. The benefit to you – something everyone could use – more horsepower and fuel efficiency.
These are just a few of my favorite features on the all-new GLS. If you'd like to take a closer look in person, feel free to contact me at (804) 755-9369 or ssnider@mbofrichmond.com to schedule a test drive.