Mercedes-Benz Accessory Gift Ideas for the Holidays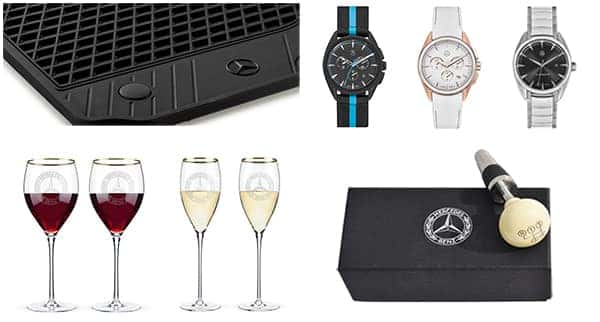 It's that time of year again! Still looking for a special gift for the Mercedes-Benz owner in your life? Or are you that "hard to shop for" friend or family member everyone loves? Either way, we have you covered with these fantastic Mercedes-Benz branded accessories that are sure to make any Benz lover's holiday season bright.
All-Season Floor Mats – 4-pack starting at $120
These are the perfect gift just before the worst of the winter weather rolls in. All-season floor mats protect your vehicle and make clean-up easy. Pricing varies by model – contact our Parts dept. for more information.
Men's and Women's Watches – starting at $99
The Mercedes-Benz Lifestyle Collection has many elegantly designed watches and jewelry options to choose from. Browse the full collection.
Wine Glasses – $49
A nice addition to someone's special glass collection. 
300 SL Gear Knob Wine Bottle Stopper – $23
An excellent stocking stuffer for vintage car/wine lovers.
For more ideas, view the full Mercedes-Benz Lifestyle Collection, or contact our Parts dept. for information on special holiday offers.