Community Partnerships: Spring Recap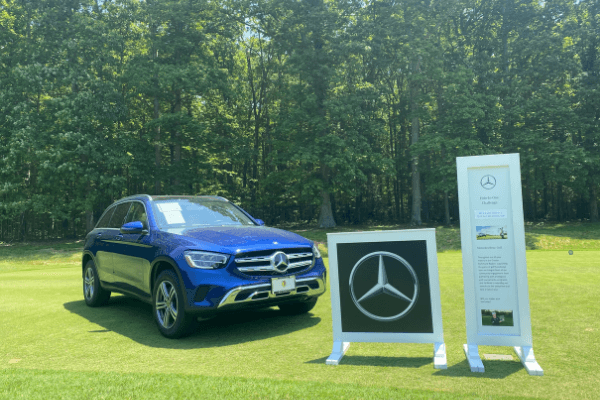 Through golf, we supported Sportable, GRACRE, and Hermitage Country Club during the month of May. We also partnered with Diamonds Direct by displaying a new EQS at their Spring Designer Showcase and brought even more luxury to the shopping experience.
Here is a recap of our May in the community:
Spring Designer Showcase at Diamonds Direct
Diamonds Direct hosted their Spring Designer Showcase from April 29 to May 1. Customers enjoyed 20% off everything in its showroom and got the chance to purchase curated jewelry from internationally renowned designers. Attendees were promptly greeted by our first fully electric vehicle, the EQS, and had the opportunity to see it up close.
Sportable's Wayne Samford Memorial Tournament
Sportable celebrated its 8th annual Wayne Samford Memorial Golf Tournament on May 16. Proceeds benefited Sportable's mission to make adaptive sports accessible throughout the greater Richmond area. Players tested their golf skills for the chance to win a GLC SUV in a hole-in-one contest.
Hermitage Senior Member & Guest
Hermitage Country Club is one of Virginia's most esteemed country clubs, rooted in traditions and dedicated to offering a superior golf experience. We once again showed our support for Hermitage's legacy by sponsoring a hole-in-one contest for a new Mercedes-Benz SUV on May 19.
GRACRE Golf Tournament
The Greater Richmond Association for Commercial Real Estate invited industry peers and professionals to network while enjoying one of Richmond's premier golf facilities, the Country Club of Virginia. The tournament benefited Storefront for Community Design, a low-cost design and planning assistance center for community members, youth, local businesses, organizations, and neighborhoods. We proudly support Richmond's growing real estate community and GRACRE's initiatives. Players were given a chance to win a GLC SUV or a GLE SUV.
Short Pump Town Center's Summer Concert Series
We are happy to be kicking off the warm weather at Short Pump Town Center's Sippin' on Summer Concert Series. Join us for all your favorite tunes from 6 – 9 pm at Short Pump's Main Plaza.
Concert Dates and Bands
6/9 | Three Sheets to the Wind
6/16 | Deloreans
7/7 | Mustache the Band
7/21 | Dean Ford and the Beautiful Ones