Cheryl Bowman's Favorite Features on the All-New 2020 GLE SUV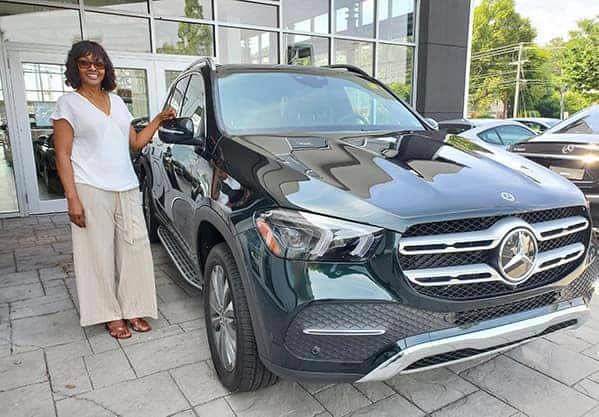 Cheryl is a Sales & Leasing Consultant at Mercedes-Benz of Richmond.
I always tell my customers, "I don't sell cars, I make friends." Well, it's easy to make friends with just about anyone after a test drive in the new 2020 GLE. It's a complete redesign, so whether it's your first time in a GLE, or if you're familiar with its predecessor – the ML – you're in for an exciting experience either way. Here are a few of my favorite features.
The Look
Don't call me superficial, but when it comes to cars I'm all about the looks. I love the curves on the new GLE. Its clean lines and sexy hips, especially if you go with the optional AMG® package, give it a look that's luxurious but also sporty. And the inside is just as stunning. The new dashboard display and steering-wheel are beautiful, modern and elegant.
The Space
The first thing my customers who own a prior model year GLE or ML notice is how much more leg room there is in the back seat. It makes a huge difference in comfort. There's also an option for third row seating now, which really seals the deal for some.
The Tech
My favorite technology feature is the sleek new touch pad. It's much less bulky and I love the feel of it. What's great about all the new models is that there are so many ways to communicate with the vehicle. Along with the touch pad, you can use the steering-wheel touch controls, the 12.3-inch touchscreen, or just talk to the vehicle using the new "Hey Mercedes" MBUX. Everything has gotten so much easier to use and figure out. It makes the driving experience much more enjoyable.


Stop by sometime and experience the all-new GLE for yourself. If you have any questions, or if you're interested in setting up a demo, test drive, or would like to place an order, you can reach me at (804) 755-9320 or cherylb@mbofrichmond.com.